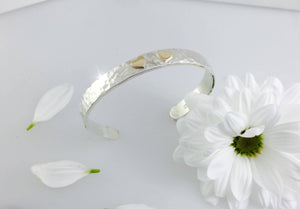 Handmade Silver cuff bangle with solid 9ct Yellow Gold hearts (not filled or plated)
The bangle is heavily textured with a hammered finish and then polished to create this unique effect. We can also supply this bangle with Rose Gold hearts. 
These are made to order so please confirm the size required. The standard size for Cuff bangles here in the UK is 6", so most bangles that slip over the wrist that are sold on the high street will be 6". As they are made to order we can make ours to any size, the easiest way to get measured is to ask your local jeweller or you can easily just measure your wrist snugly with a tape measure (dont leave a gap) and that will be the size you require as the small gap left to get onto your wrist will give you that extra bit of room to make the bangle comfortable to wear.
Do you have any questions? Feel free to contact us here.